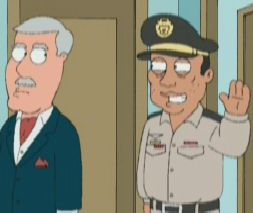 Manuel Antonio Noriega (February 11, 1934 - May 30, 2017) was a former general and the military dictator of Panama from 1983 to 1989. He was never, contrary to popular opinion, officially the president of Panama, but held the post of "chief executive officer" for a brief period in 1989. The 1989 invasion of Panama by the United States removed him from power; he was captured, detained as a prisoner of war, and flown to the U.S. Noriega was tried on eight counts of drug trafficking, racketeering, and money laundering in April 1992.
Noriega was mentioned by Stewie at Peter's pool party in "E. Peterbus Unum".
While at his daughter's home, Carter Pewterschmidt misses Noriega, and is grateful for Noriega's loyalty and drug money in "Padre de Familia". Noriega appears to him and, in excitement, Carter begins to chase Noriega around the living room.