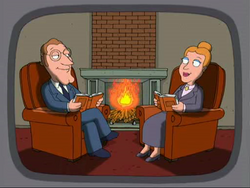 Margaret
is a character in the British pornography film
Peter
watches at the
Park-Barrington Hotel
in "
North by North Quahog
".
She first appears in a scene where she is having sex with Shelley Boothbishop. Margaret nonchalantly congratulates him when he finishes. She later appears in a scene in a living room, where she and Shelley are reading books near a fireplace. Shelley suggests the possibility of having sex. However, he then says he states he doesn't want to.
Margaret is voiced by Alex Borstein.
Ad blocker interference detected!
Wikia is a free-to-use site that makes money from advertising. We have a modified experience for viewers using ad blockers

Wikia is not accessible if you've made further modifications. Remove the custom ad blocker rule(s) and the page will load as expected.