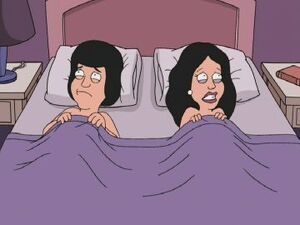 Olive Marie Osmond (October 13, 1959) is an American actress, singer, doll designer, and a member of the show business family, The Osmonds. Although she was never part of her family's singing group, she gained success as a solo country music artist in the 1970s and 1980s. Her best known song is a cover of the country pop ballad "Paper Roses". In 1976, she and her singer-brother, Donny Osmond, began hosting the TV variety show, Donny & Marie.
Mrs. Lockhart uses Marie and brother, Donny, as an example of giving in to impulses in "Fast Times at Buddy Cianci Jr. High".
When explaining to Jerome why he should "Thank the Whites" in "Baby Got Black", Donny and Marie appear in the chorus.
Ad blocker interference detected!
Wikia is a free-to-use site that makes money from advertising. We have a modified experience for viewers using ad blockers

Wikia is not accessible if you've made further modifications. Remove the custom ad blocker rule(s) and the page will load as expected.