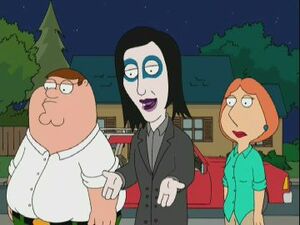 Marilyn Manson (born, Brian Hugh Warner, January 5, 1969) is an American musician/singer.
Chris became a fan of his music in "Saving Private Brian". As Chris spirals out of control into rebellion, Peter and Lois are concerned for their son's well being after they discover he has become a fan of Marilyn Manson. They go to a Music Awards Ceremony and bring Marilyn back to their house to talk to Chris. He then convinces Chris to respect other people again and finishes the episode. The Mechanical Animals album cover art is shown as the poster in Chris' room.
Marilyn Manson is voiced by Family Guy writer Tom Devanney.