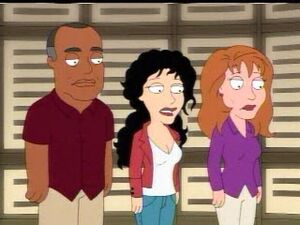 Marina Sirtis (born March 29, 1955) is a British-American actress who is most noted for playing the Human/Betazoid Counselor Deanna Troi on the television and film series Star Trek: The Next Generation.
In a TNG cutaway in "Peter's Got Woods", she used her abilities to pick up some rather unusual emotions. She appeared as herself with her castmates in "Not All Dogs Go To Heaven", at the convention and spending the day with Stewie Griffin.
Ad blocker interference detected!
Wikia is a free-to-use site that makes money from advertising. We have a modified experience for viewers using ad blockers

Wikia is not accessible if you've made further modifications. Remove the custom ad blocker rule(s) and the page will load as expected.