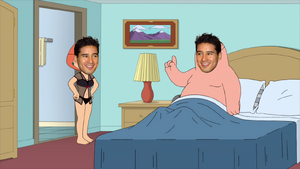 Mario Lopez, Jr. (born October 10, 1973) is an American television host and actor. He is of Mexican descent. Lopez has appeared on several television series, in films, and on Broadway. He is best known for his portrayal of A.C. Slater on Saved By The Bell.
Peter and Lois find it weird that they both chose masks of Mario Lopez for the sex roleplay in "Secondhand Spoke". Peter notes that it appears they both go Latino, but soft Latino.
Ad blocker interference detected!
Wikia is a free-to-use site that makes money from advertising. We have a modified experience for viewers using ad blockers

Wikia is not accessible if you've made further modifications. Remove the custom ad blocker rule(s) and the page will load as expected.