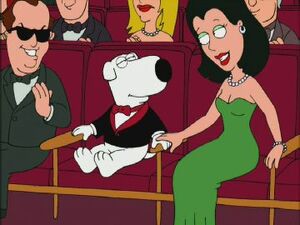 Marisa Tomei (born December 4, 1964) is an American stage, film and television actress. Tomei first came to prominence as a supporting cast member on The Cosby Show spin-off, A Different World, in 1987.
She won the Academy Award for Best Supporting Actress for her performance in My Cousin Vinny at the 1993 ceremony; she and Brian sat next to Jack Nicholson.
Brian pulled off a miracle helping her win her Academy Award in "Peter, Peter, Caviar Eater".
Ad blocker interference detected!
Wikia is a free-to-use site that makes money from advertising. We have a modified experience for viewers using ad blockers

Wikia is not accessible if you've made further modifications. Remove the custom ad blocker rule(s) and the page will load as expected.