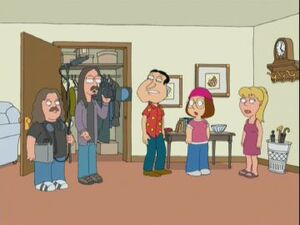 Mark Borchardt (born Agust 20, 1966) is an American independent filmmaker. He is best known as the subject of American Movie: The Making of Northwestern (1999), a film that documented two of the three and a half years he spent writing, shooting and editing his horror short, Coven (1997).
He appears as himself with friend, Mike Schank, in "Brian Sings and Swings" when Glenn Quagmire hires them when he attempts to videotape Meg Griffin and her lesbian friend, Sarah.
Ad blocker interference detected!
Wikia is a free-to-use site that makes money from advertising. We have a modified experience for viewers using ad blockers

Wikia is not accessible if you've made further modifications. Remove the custom ad blocker rule(s) and the page will load as expected.