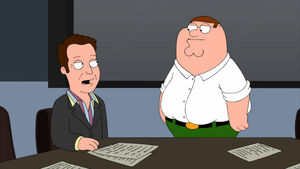 Mark Burnett (born June 17th, 1960) is an American producer, best known for producing Survivor. Among his other shows he has produced are Celebrity Apprentice, The Voice, Are You Smarter Than a 5th Grader?, Shark Tank and The People's Choice Awards.
He provides his own voice in "Ratings Guy" when Peter empowers him to create a show to save television. Mark's show consists of Peter pulling down his pants for five cents.
Ad blocker interference detected!
Wikia is a free-to-use site that makes money from advertising. We have a modified experience for viewers using ad blockers

Wikia is not accessible if you've made further modifications. Remove the custom ad blocker rule(s) and the page will load as expected.