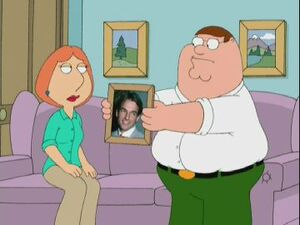 Mark Harmon (born September 2, 1951) is an American actor who has been starring in U.S. television programs and films since the mid-1970s. Since 2003, Harmon has starred as NCIS Special Agent Leroy Jethro Gibbs in the popular CBS series NCIS.
Peter Griffin shows his wife Lois an actual picture of Harmon, over her objections, to demonstrate what "cool" is in "No Meals on Wheels" when discussing the treatment of those paralyzed and confined to wheelchairs.
Harmon voices agent Gibbs when Tom Tucker appears on NCIS in "Tom Tucker: The Man and His Dream".
Ad blocker interference detected!
Wikia is a free-to-use site that makes money from advertising. We have a modified experience for viewers using ad blockers

Wikia is not accessible if you've made further modifications. Remove the custom ad blocker rule(s) and the page will load as expected.