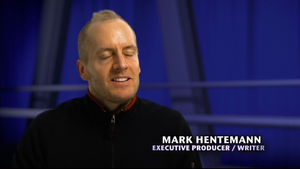 Mark Hentemann is an American animation writer. Hentemann is most notably known for writing several episodes of the animated series Family Guy. In addition, Hentemann has also provided voices for many minor characters on Family Guy, including Holden Caulfield and Opie. For many seasons, Hetemann and Steve Callaghan served as showrunners as Family Guy. Following Richard Appel's return, he and Callaghan will remain as executive producers.
Hentemann has also written for Late Show with David Letterman.
Episodes written for Family Guy:
Ad blocker interference detected!
Wikia is a free-to-use site that makes money from advertising. We have a modified experience for viewers using ad blockers

Wikia is not accessible if you've made further modifications. Remove the custom ad blocker rule(s) and the page will load as expected.