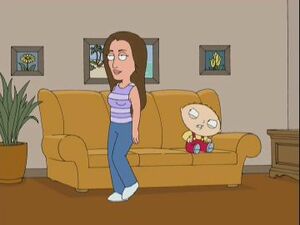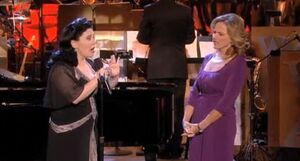 Marlee Matlin (born August 24, 1965) is an American actress. Deaf since she was 18 months old, she is the youngest woman to win the Academy Award for Best Actress in a Leading Role, which she won at the age of 21.
In "Airport '07", it was revealed that Stewie Griffin had once lived with her. She farts often but doesn't notice it due to her deafness. She also speaks like a deaf person, even though she doesn't in reality. Stewie reacted by complaining about her ignoring the farts when she could feel it happening.
In "I Dream of Jesus", a YouTube video shows her trying to inquire about The Last Mimzy on Moviefone, but due to her impaired speech, ended up purchasing 300.
Marlee Matlin is voiced by Alex Borstein. However, according to the commentary of "Jesus", after the airing of either episode, Matlin's agent called the show to ask why they didn't call her so that she could provide her own voice.
The real Matlin made an appearance at Family Guy Presents: Seth & Alex's Almost Live Comedy Show while Borstein performed "Poker Face" as her. The aforementioned Moviefone cutaway was also updated. This time, she tries ordering (500) Days of Summer, but purchases Fame. During the "Poker Face" gag, the real Matlin shows up berating Alex for making fun of her without her consent, and for not considering calling her so she could provide her own voice for the gags. Matlin makes further insult to injury by doing a rude impression of Borstein, pointing out her shortcomings. The gag ends with Matlin asking Alex if she would like to hear some sign language, to which Alex nodded nervously. In response to the nod, Marlee Matlin flips Alex off and shouts "FUCK YOU!!!" before storming off stage.
Matlin was also one of Donald Trump's celebrity roasters for the Comedy Central Roast of Donald Trump on March 9, 2011, where Seth MacFarlane was roastmaster.