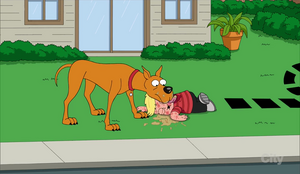 Marmaduke is a newspaper comic strip drawn by Brad Anderson from 1954 to 2015. After his death in 2015, the strips are co-drawn by his son Paul Anderson, and continue to be syndicated.
When Billy from The Family Circus dies of measles in "Hot Shots", Brian and Lois observe Marmaduke come along to lick up the vomit.
Stewie tells Brian that Rupert used to call him names in "Dog Bites Bear", including "Marmadukie."