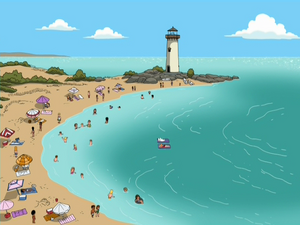 Martha's Vineyard (including the smaller Chappaquiddick Island) is an island off the south of Cape Cod in New England. The islands both form a part of the Outer Lands region.
The Seaside Inn is located here, and Brian, Peter, and Lois Griffin, stayed at the hotel for the Writers' Awards, when Brian accepted an award for an essay he wrote in "Play It Again, Brian". Lois and Peter tagged along so they could relieve the anxiety arising in their marriage. However, Peter often got drunk, missing Brian's award, and opening up opportunities for Lois and Brian to have quality time together. Peter's drunkenness landed him married to actor Nathan Lane and brawling with his best friend.
Ad blocker interference detected!
Wikia is a free-to-use site that makes money from advertising. We have a modified experience for viewers using ad blockers

Wikia is not accessible if you've made further modifications. Remove the custom ad blocker rule(s) and the page will load as expected.