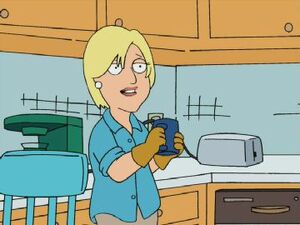 Martha Helen Stewart (née Kostyra; born August 3, 1941) is an American business magnate, television host, author, and magazine publisher.
Jennifer compares Lois Griffin to her when she first met her in "Chitty Chitty Death Bang".
She appears in "Mr. Griffin Goes to Washington", when she is hired as the Griffins' maid since Peter Griffin became president of the El Dorado Cigarette Company. Eventually Lois fires her when she realizes that Peter became the president for all the wrong reasons. After Lois leaves, Martha says that she is finally alone and free to do whatever she wants. So, she lets a big fart rip.
Martha Stewart is voiced by Alex Borstein.
Ad blocker interference detected!
Wikia is a free-to-use site that makes money from advertising. We have a modified experience for viewers using ad blockers

Wikia is not accessible if you've made further modifications. Remove the custom ad blocker rule(s) and the page will load as expected.