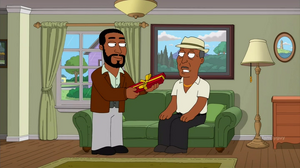 Marvin Gaye (April 2, 1939 – April 1, 1984), born Marvin Pentz Gay, Jr., was an American singer-songwriter and musician. Gaye helped to shape the sound of Motown Records in the 1960s until his death. Gaye was shot twice following an altercation with his father, Marvin Gay, Sr., after he intervened in an argument between his parents. The wounds were fatal and he was pronounced dead on arrival at the California Hospital Medical Center.
Marvin Gaye appears in "Brian's a Bad Father" when Brian declares himself to be a worse father than Marvin Gaye's dad. In a cutaway, when Marvin brings his dad a gift, his father threatens to kill him if it's a tie.
Marvin is voiced by Kevin Michael Richardson.