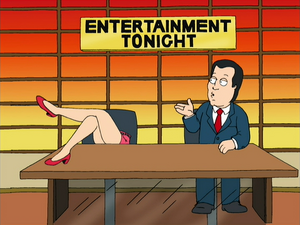 Mary Hart (born November 8, 1950) is an American television personality and has been the host of the syndicated gossip and entertainment round-up program Entertainment Tonight since 1982.
Her legs appeared in her co-anchor chair next to then co-anchor Bob Goen in "There's Something About Paulie".
She provides a voice over in It's A Trap! for Entertainment Tonight, celebrating birthdays for IG-88, Lando Calrissian and Pignose, referred to as "I Don't Like You Either" Guy.
Ad blocker interference detected!
Wikia is a free-to-use site that makes money from advertising. We have a modified experience for viewers using ad blockers

Wikia is not accessible if you've made further modifications. Remove the custom ad blocker rule(s) and the page will load as expected.