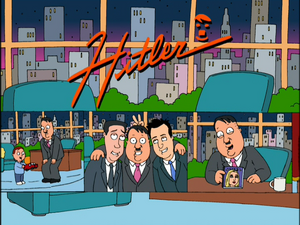 Matthew Langford Perry (born August 19, 1969) is an American-Canadian actor, best known for his role as Chandler Bing on the popular, long-running NBC sitcom Friends, for which he earned a Emmy Award nomination in 2002. Perry also starred in the short-lived series Studio 60 on the Sunset Strip, as well as having roles in the films The Whole Nine Yards (2000), its sequel The Whole Ten Yards (2004), Numb (2007), and 17 Again (2009). His portrayal of Ron Clark in The Ron Clark Story earned him an Emmy nomination and a Golden Globe nomination. He also guest-starred in three episodes of the drama series, The West Wing, which garnered him two consecutive Emmy nominations in 2003 and 2004. Perry is the co-creator, co-writer, executive producer and star of the ABC sitcom, Mr. Sunshine, which premiered on February 9, 2011.
He appears in "Death Is a Bitch" as a guest on Adolf Hitler's hypothesized late-night talk show, Hitler, appearing with Friends co-star David Schwimmer.
Ad blocker interference detected!
Wikia is a free-to-use site that makes money from advertising. We have a modified experience for viewers using ad blockers

Wikia is not accessible if you've made further modifications. Remove the custom ad blocker rule(s) and the page will load as expected.