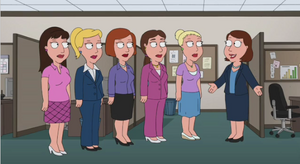 Maya appears in a cutaway set up by Jesus in "The 2000-Year-Old Virgin" when he tries to discourage Peter and the guys from turning his upcoming birthday into a big blowout, noting that he isn't like a woman about to turn 30.
In the gag, Maya makes demands of her various companions in regards to her upcoming birthday celebration. When one of the girls tries to interrupt her, she snaps that she doesn't care if the girl's dad is dying, they will all be going to Montreal for the week.
Ad blocker interference detected!
Wikia is a free-to-use site that makes money from advertising. We have a modified experience for viewers using ad blockers

Wikia is not accessible if you've made further modifications. Remove the custom ad blocker rule(s) and the page will load as expected.