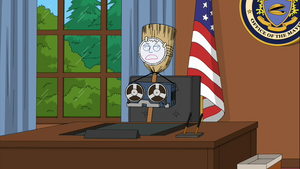 The Mayor-O-Matic 5000 is a construct that Mayor Adam West left in charge of the city in the extended DVD cut of "And Then There Were Fewer". With its attached tape recorder, it can play back sayings to keep the government running during his absence.
Ad blocker interference detected!
Wikia is a free-to-use site that makes money from advertising. We have a modified experience for viewers using ad blockers

Wikia is not accessible if you've made further modifications. Remove the custom ad blocker rule(s) and the page will load as expected.