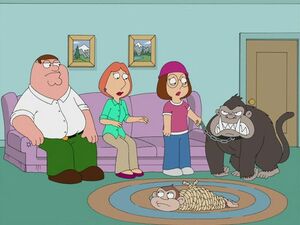 Meg's Evil Monkey is an evil monkey that resides in Meg Griffin's closet, and for a while, paralleled brother Chris's Evil Monkey until Hannah Banana", the episode in which Meg's debuts. When Chris shows the family that his indeed exists, Meg reveals she has an even larger, more fearsome looking monkey. Unfortunately, nobody cares.
Ad blocker interference detected!
Wikia is a free-to-use site that makes money from advertising. We have a modified experience for viewers using ad blockers

Wikia is not accessible if you've made further modifications. Remove the custom ad blocker rule(s) and the page will load as expected.