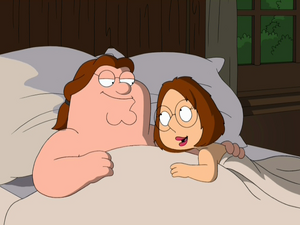 Meg Peterson was the first wife of Griffin Peterson, the founder of Quahog, Rhode Island, and past life of Peter Griffin. Her design basis is of Meg Griffin, the daughter of Peter. The way Peterson treated his wife is similar to the way Griffin treats his daughter. Griffin had married her having forgotten Lady Redbush, his fiancee. When Redbush escapes from King Stewart III, she reunited with Peterson, leaving Griffin to go through complex divorce proceedings with Meg. The two go out back, where Peterson shoots Meg dead.
She was voiced by Mila Kunis.
Ad blocker interference detected!
Wikia is a free-to-use site that makes money from advertising. We have a modified experience for viewers using ad blockers

Wikia is not accessible if you've made further modifications. Remove the custom ad blocker rule(s) and the page will load as expected.