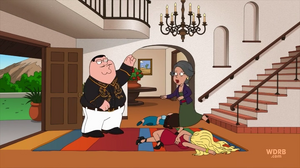 Megan Kathleen Hilty (born March 29, 1981) is an American stage and television actress. She rose to prominence for her roles in several Broadway musicals including Wicked and 9 to 5: The Musical. She was in the television musical series Smash, singing many original songs, including "Let Me Be Your Star," which was nominated for a Grammy.
Megan provides the voices of the "Old Woman" in Peter's Spanish soap opera and Helen Keller's teacher at Harvard in "The Giggity Wife".
Ad blocker interference detected!
Wikia is a free-to-use site that makes money from advertising. We have a modified experience for viewers using ad blockers

Wikia is not accessible if you've made further modifications. Remove the custom ad blocker rule(s) and the page will load as expected.