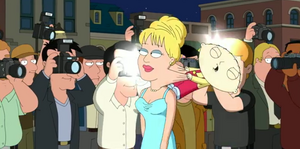 Melanie Griffith (born August 9, 1957) is an American actress. She is an Academy Award nominee and Golden Globe winner for her performance in the 1988 film, Working Girl.
Stewie Griffin claims he once had a job holding back her flaps of skin in "Brian Writes a Bestseller".
Ad blocker interference detected!
Wikia is a free-to-use site that makes money from advertising. We have a modified experience for viewers using ad blockers

Wikia is not accessible if you've made further modifications. Remove the custom ad blocker rule(s) and the page will load as expected.