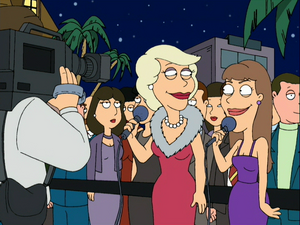 Melissa Joan Rivers (born January 20, 1968) is an American television host and the daughter of Joan Rivers. Teamed with her comedienne mother, Melissa hosted fashion on the red carpet interviews for the E! cable network. In 2003, Melissa and Joan left her red carpet pre-show on E! to accept a more lucrative deal with the TV Guide Channel.
In "Brian Does Hollywood", she appeared with her attention-seeking mother on the red carpet at the Adult Movie Awards.
Ad blocker interference detected!
Wikia is a free-to-use site that makes money from advertising. We have a modified experience for viewers using ad blockers

Wikia is not accessible if you've made further modifications. Remove the custom ad blocker rule(s) and the page will load as expected.