Merchandise Overview
Talk

0
4,776pages on
this wiki

There is a lot of Family Guy merchandise on the market to day. This is a list of what is available.
A game based on "Road to the Multiverse".
Family Guy Online is an online MMO. The game is browser based and requires installing Unity Web Player. Clams are set to be in-game money and are earned by doing things and accomplishing tasks that you might be challenged to complete. You can pick up 60 in the registration process. You can also answer a question about what character you'd like to play as and who not to play.
Family Guy: Uncensored is a 2009 video game. This game can be played on both mobile and iPod systems. It has 40 different levels and 8 mini-games including: Petercopter, Brian vs Stewie, Peter vs Chicken, Robo Stewie, Sketch Arcade, Jungle Love, Rocket Brian and Stewie vs Bertram.
Family Guy Video Game! is a 2006 video game released by 2K Games, based on the animated series Family Guy. It appeared on the Xbox and PlayStation 2 consoles, and the handheld PlayStation Portable. The game's structure reflects an episode of the TV show, and its game-play is similar to an arcade game.
Family Guy: Time Warped is a 2010 iPhone/iPod Touch app that was designed by Glu, creators of Family Guy: Uncensored.
Stern released a Family Guy arcade pinball machine in early 2007. The machine features many of the characters and settings from the show and features voice clips from episodes plus some new sound calls.
A tabletop version of pinball similar to the Coleco games of the 1980s-90s.
From Cardinal Industries, features 1000 questions about the Griffins and their Quahog friends.
Featuring many great scenes from the show, this game is from Screenlife.
Portable version of the famous trivia game.
The Family Guy version of the Parker Brothers property trading game features tokens in the shape of the characters, special money, title deed and random event cards, and properties inspired by the show.
Sababa Toys produced a version of the popular Uno card game featuring the Griffins.
For a list of:Family Guy DVDs
Family Guy: Live in Vegas is currently the only soundtrack for Family Guy. It features only one song from the show (the theme song); the rest of the songs are exclusive to the CD. The CD was a collaboration between Walter Murphy, who composed the show's theme song, and Seth MacFarlane, who created the show. The CD has a showtune theme, reflecting MacFarlane's great love of Broadway musicals. The album also came with a DVD featuring the music video for Stewie's "Sexy Party" as well as "making-of" featurettes for the album and the "Sexy Party" video.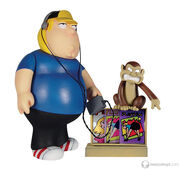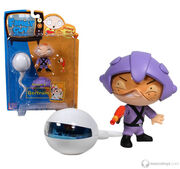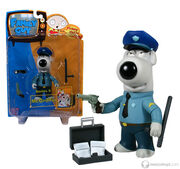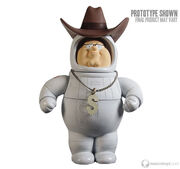 Mezco Toyz has put out eight series of collectible Family Guy figures:
Mezco also made variants of some figures in this line.A few examples are Hoodless Death, Pink Shirt Mr.Weed and Jasper figures, black belt Lois, and there are a few different eye variants for Peter, Mort, Stewie, and Bedtime Stewie.
There is also a Peter vs. the Giant Chicken two pack and a Nighttime Peter and Lois two pack. There are also exclusive figures they are a Comic-Con exclusive Mr. Herbert and Jesse, Comic-Con Deluxe Evil Monkey with flocked fur, Toyfair Chris,Suncoast Grillin' and Chillin' Peter, Spencers Gifts Nighttime Peter and Lois variant set, and a Spencers Gifts Deluxe 18 inch Talking Peter.
Mezco has also produced a number of special releases and custom items. They also produced the figures seen in the Family Guy Pinball Machine. In 2009, Mezco began reissuing earlier figures under the name 'Family Guy Classics' with different colored packaging.
Also, there are bendable figurines, trading cards, and more.
Miniature figures sold "blind box".