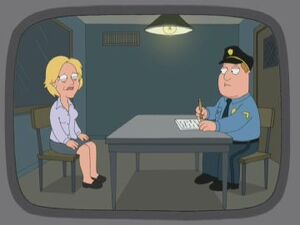 Meredith Ann Baxter, formerly Meredith Baxter-Birney, (born June 21, 1947) is an American actress. Baxter is best known for her work on two television shows. She first became popular playing the role of Nancy Lawrence Maitland on the television drama, Family, from 1976 to 1980. She received two Emmy Award nominations for Outstanding Continuing Performance by a Supporting Actress in a Drama Series, in 1977 and 1978. The second role is ex-flower child Elyse Keaton on the sitcom, Family Ties, which aired from 1982 to 1989. In reality, she was only 14 years older than Michael J. Fox, who played her son, Alex.
Peter Griffin inadvertently sketched her with her Family Ties cast in "Fifteen Minutes of Shame".
In "Family Gay", Baxter appears in a movie called Raped By a Clown. She provides her own voice in this episode.
She reprised her role as Elyse Keaton in "Brothers & Sisters" for a fictional Ties episode.