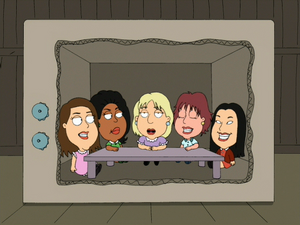 Meredith Louise Vieira (born December 30, 1953) is an American journalist, television personality, and game show host. She used to co-host NBC's Today and often contributes to Dateline NBC. She is the host for Who Wants to Be a Millionaire in syndication, replacing Regis Philbin in 2002. She previously co-hosted ABC's daytime talk show, The View.
In "Family Guy Viewer Mail No. 1", when the kids are flipping channels they turn to an episode of The View, featuring young versions of its hostesses at the time, including Star Jones, Vieira, Joy Behar, Barbara Walters and Lisa Ling.
Ad blocker interference detected!
Wikia is a free-to-use site that makes money from advertising. We have a modified experience for viewers using ad blockers

Wikia is not accessible if you've made further modifications. Remove the custom ad blocker rule(s) and the page will load as expected.