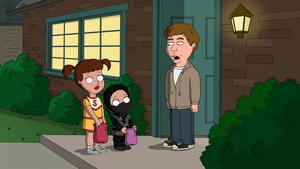 Michael Austin Cera (born June 7, 1988) is a Canadian actor best known for his roles in Arrested Development, Youth in Revolt, Superbad, Scott Pilgrim vs. the World, Nick and Norah's Infinite Playlist and Juno.
In the DVD cut of "Halloween on Spooner Street", Stewie wants to trick-or-treat at Michael's house but Brian points out that he is only giving out low-energy one liners. The bit is followed by Michael stumbling his way through a joke.
Ad blocker interference detected!
Wikia is a free-to-use site that makes money from advertising. We have a modified experience for viewers using ad blockers

Wikia is not accessible if you've made further modifications. Remove the custom ad blocker rule(s) and the page will load as expected.