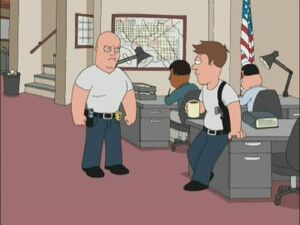 Michael Charles Chiklis (born August 30, 1963) is an American actor, voice actor, occasional director and television producer. Some of the previous roles for which he is best known include Commissioner Tony Scali on the ABC police drama, The Commish, LAPD Detective Vic Mackey on the FX police drama, The Shield, and The Thing in the Fantastic Four film series.
He voiced Big Fat Paulie in "There's Something About Paulie", the mechanic in "The Kiss Seen Around the World", Hennessey in "A Fish out of Water", and his character Mackey in Stewie Griffin: The Untold Story. He was credited as Bronx Guy #1 in "Lethal Weapons".
Stewie reassures Brian that meeting with Dylan Flannigan will be alright as he had also advised Michael Chiklis to wear tight shirts in "Brian's a Bad Father". Here, Michael is voiced by Ralph Garman.