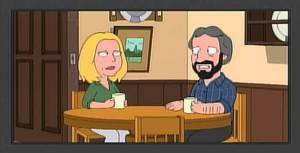 Michael Gross (born June 21, 1947) is an American television, film, and stage actor who plays both comedic and dramatic roles. His most notable roles are father Steven Keaton from Family Ties and graboid hunter Burt Gummer from the Tremors film and television series.
Peter Griffin paints him in his role as Keaton with his Family Ties castmembers in "Fifteen Minutes of Shame".
He reprises the role in "Brothers & Sisters".
Ad blocker interference detected!
Wikia is a free-to-use site that makes money from advertising. We have a modified experience for viewers using ad blockers

Wikia is not accessible if you've made further modifications. Remove the custom ad blocker rule(s) and the page will load as expected.