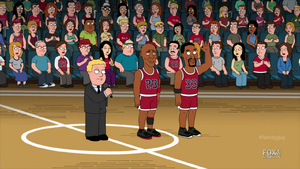 Michael Jeffrey Jordan (born February 17, 1963) is an American former professional basketball player, entrepreneur, and majority owner and chairman of the Charlotte Bobcats.
In "Into Fat Air", Peter laments that he'll always be Lois' second lover, like Scottie Pippen to Michael Jordan.
Brian and Stewie watch "Another Michael Jordan underwear commercial on a plane for some reason" in "Our Idiot Brian".
Ad blocker interference detected!
Wikia is a free-to-use site that makes money from advertising. We have a modified experience for viewers using ad blockers

Wikia is not accessible if you've made further modifications. Remove the custom ad blocker rule(s) and the page will load as expected.