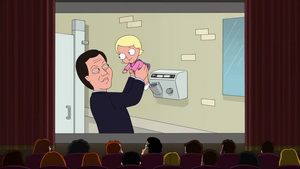 Michael John Douglas (born September 5, 1951), better known by the stage name Michael Keaton, is an American actor who became popular for his early comedic film roles, most notably his performance as the title character of Tim Burton's Beetlejuice, and later gained international fame for his dramatic portrayal of Bruce Wayne / Batman in Tim Burton's Batman and Batman Returns. He has appeared in various other films, including Mr. Mom and has also provided voicework for Pixar's Cars and Toy Story 3.
Quagmire reassures Joe that he knows how to change a diaper after seeing Mr. Mom four times in "Bigfat". A cutaway shows a young Quagmire commenting on Michael Keaton's skills at changing a baby in Mr. Mom.
Ad blocker interference detected!
Wikia is a free-to-use site that makes money from advertising. We have a modified experience for viewers using ad blockers

Wikia is not accessible if you've made further modifications. Remove the custom ad blocker rule(s) and the page will load as expected.