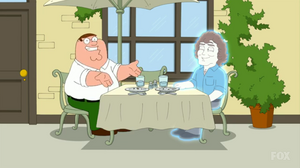 Michael Landon (October 31, 1936 - July 1, 1991) was an American actor who appeared in TV shows such as Bonanza, Little House on the Prairie and Highway to Heaven. He died from pancreatic cancer at the age of 54.
He appeared as a ghost in "Road to the North Pole" having lunch with Peter Griffin as part of his Christmas wishes in "All I Really Want For Christmas". It is apparent that Peter's wife Lois does not approve.
Ad blocker interference detected!
Wikia is a free-to-use site that makes money from advertising. We have a modified experience for viewers using ad blockers

Wikia is not accessible if you've made further modifications. Remove the custom ad blocker rule(s) and the page will load as expected.