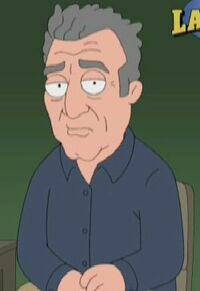 Michael Anthony Richards (born July 24, 1949) is an American actor and comedian, best known for his portrayal of the eccentric Cosmo Kramer on Seinfeld.
On November 17, 2006, during a performance at the Laugh Factory in West Hollywood, California, a cell phone video captured Richards shouting "Shut up" to an alleged heckler in the audience, followed by repeated shouts of "He's a nigger!" to the rest of the audience, using the word six times altogether, and also making a reference to lynching.
Kramer's role in the Seinfeld episode "The Junior Mint" is a subject of conversation between Saddam Hussein and Muammar al-Gaddafi at Petorian president Peter Griffin's pool party in "E. Peterbus Unum".
Peter, experimenting with Mormonism, calls one of his wives "Kramer" in "The Father, the Son, and the Holy Fonz".
In "Airport '07", it is revealed that Griffin and his friend Cleveland Brown, an African-American, attended the performance.
He appears on Late Show with David Letterman in "Back to the Woods" to apologize for the incident.
Tom Tucker's rant at a comedy club show in "Total Recall" is similar to Richards'.
Ad blocker interference detected!
Wikia is a free-to-use site that makes money from advertising. We have a modified experience for viewers using ad blockers

Wikia is not accessible if you've made further modifications. Remove the custom ad blocker rule(s) and the page will load as expected.