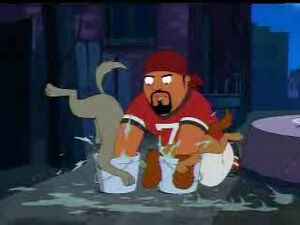 Michael Dwayne Vick (born June 26, 1980) is a professional American football quarterback for the Philadelphia Eagles of the National Football League. He previously played for the Atlanta Falcons for six seasons before serving 18 months in prison for his involvement in an illegal dog fighting ring.
Gruesome details involving abuse, torture and execution of under-performing dogs galvanized animal rights activists and expressions of public outrage. Vick and several others were subsequently indicted on both federal and Virginia felony charges related to the operation.
Vick is shown drowning Lady and the Tramp in "Stew-Roids".
A live-action photo of Michael is used to "train" Brian at obedience school in "Once Bitten".
Ad blocker interference detected!
Wikia is a free-to-use site that makes money from advertising. We have a modified experience for viewers using ad blockers

Wikia is not accessible if you've made further modifications. Remove the custom ad blocker rule(s) and the page will load as expected.