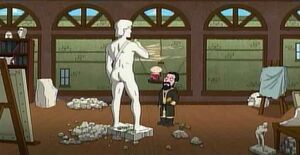 Michelangelo di Lodovico Buonarroti Simoni (6 March 1475 – 18 February 1564), commonly known as Michelangelo, was an Italian Renaissance painter, sculptor, architect, poet, and engineer. Despite making few forays beyond the arts, his versatility in the disciplines he took up was of such a high order that he is often considered a contender for the title of the archetypal Renaissance man, along with fellow Italian Leonardo da Vinci.
While being pursued by Bertram in flying machines taken from Leonardo da Vinci in "The Big Bang Theory", Stewie Griffin passes by Michelangelo's studio where he pauses to admire Michelangelo's statue of David.
Ad blocker interference detected!
Wikia is a free-to-use site that makes money from advertising. We have a modified experience for viewers using ad blockers

Wikia is not accessible if you've made further modifications. Remove the custom ad blocker rule(s) and the page will load as expected.