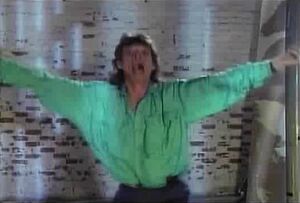 Sir Michael Philip "Mick" Jagger (born 26 July 1943) is an English musician, singer-songwriter, actor, and producer, best known as the lead vocalist of rock band, The Rolling Stones. Jagger has also acted in and produced several films.
The complete music video of Jagger's version of "Dancing in the Street" with David Bowie is shown in an extensive cutaway gag in "Foreign Affairs".
Ad blocker interference detected!
Wikia is a free-to-use site that makes money from advertising. We have a modified experience for viewers using ad blockers

Wikia is not accessible if you've made further modifications. Remove the custom ad blocker rule(s) and the page will load as expected.