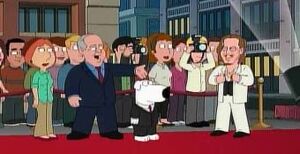 Philip Andre "Mickey" Rourke, Jr. (born September 16, 1952) is an American actor and screenwriter who has appeared primarily as a lead actor in action, drama, and thriller films.
Stewie Griffin says that his brother Chris eats like Rourke, and blames Entertainment Tonight for knowing that name in "There's Something About Paulie".
He appears at a movie premiere in the musical number "Republican Town" in "Excellence in Broadcasting".
Ad blocker interference detected!
Wikia is a free-to-use site that makes money from advertising. We have a modified experience for viewers using ad blockers

Wikia is not accessible if you've made further modifications. Remove the custom ad blocker rule(s) and the page will load as expected.