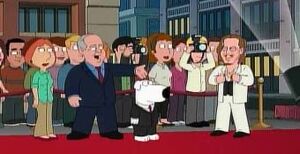 Philip Andre "Mickey" Rourke, Jr. (born September 16, 1952) is an American actor and screenwriter who has appeared primarily as a lead actor in action, drama, and thriller films.
Stewie Griffin says that his brother Chris eats like Rourke, and blames Entertainment Tonight for knowing that name in "There's Something About Paulie".
He appears at a movie premiere in the musical number "Republican Town" in "Excellence in Broadcasting".