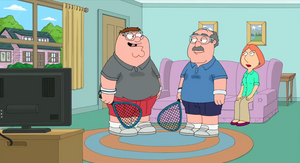 Mike is Peter's racquetball opponent when Lois recalls Peter's "Everywhere is a racquetball court" phase in "Turban Cowboy". After congratulating Mike for kicking his butt in the first match, Peter starts to talk business for J.T. Stearns' Wichita account just as they start another match.
Ad blocker interference detected!
Wikia is a free-to-use site that makes money from advertising. We have a modified experience for viewers using ad blockers

Wikia is not accessible if you've made further modifications. Remove the custom ad blocker rule(s) and the page will load as expected.