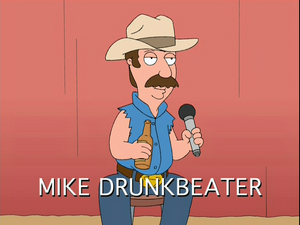 Mike Drunkbeater is a professional redneck-style comedian. He performs as part of The Redneck Comedy Tour with Stink Fleaman, Walt Abernathy, and Larry, the guy who works for the department of water and power. They make a stop at The Brine in Quahog, Rhode Island in "Airport '07".
Mike is mentioned in "Brian's a Bad Father" when Stewie Griffin uses his catchphrase "Oooo, that dog of mine!" when talking about Brian. He then instructs the audience to look it up on the internet.
Ad blocker interference detected!
Wikia is a free-to-use site that makes money from advertising. We have a modified experience for viewers using ad blockers

Wikia is not accessible if you've made further modifications. Remove the custom ad blocker rule(s) and the page will load as expected.