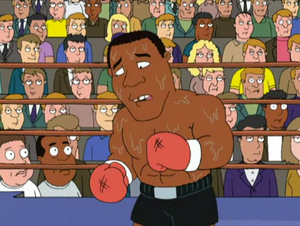 Michael Gerard "Mike" Tyson (born June 30, 1966) is an American boxer. Tyson was the undisputed heavyweight champion and holds the record as the youngest boxer to win the WBC, WBA and IBF world heavyweight titles. He won the WBC title when he was 20 years, 4 months and 22 days old, after defeating Trevor Berbick by a TKO in the second round. Throughout his career, Tyson became well known for his ferocious and intimidating boxing style as well as his controversial behavior both inside and outside the ring.
In "Mr. Griffin Goes to Washington", he is shown at a spelling bee among children. He misspells the word he is given on the first letter.
He also appears in "Patriot Games" on FOX's Celebrity Boxing fighting against actress Carol Channing. He loses the match when he collapses from exhaustion. The loss cost Brian Griffin $50 in a bet.
Ad blocker interference detected!
Wikia is a free-to-use site that makes money from advertising. We have a modified experience for viewers using ad blockers

Wikia is not accessible if you've made further modifications. Remove the custom ad blocker rule(s) and the page will load as expected.