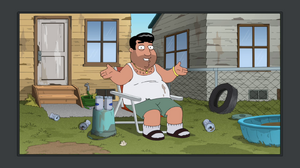 Mikey Tony is the host of The Mikey Tony Magnanimous Hour which Lois watches in "Vestigial Peter". The show consists of what Mikey describes as "real people being magnanimous about real things." His topic is Native Americans and insists if he saw one begging he'd throw a buck in their moccasin. The following week he'll be wearing a yellow bracelet.
Ad blocker interference detected!
Wikia is a free-to-use site that makes money from advertising. We have a modified experience for viewers using ad blockers

Wikia is not accessible if you've made further modifications. Remove the custom ad blocker rule(s) and the page will load as expected.