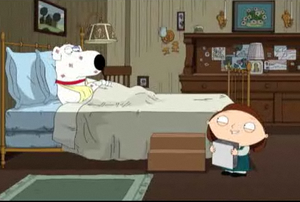 Misery is a 1990 American psychological horror/thriller film, based on Stephen King's 1987 novel of the same name. Directed by Rob Reiner, the film received critical acclaim for Kathy Bates' performance as the psychopathic Annie Wilkes. Bates won both the Academy Award for Best Actress and a Golden Globe.
It is the second segment of "Three Kings". Brian Griffin plays Paul Sheldon, Stewie Griffin plays Stewie Wilkes, a personalized version of Bates' Annie Wilkes, Lois Griffin plays Sheldon's publishing agent Marsha, and Joe Swanson plays Sheriff Buster. The series of novels that cause the film's events is the Snuggly Jeff series.
Ad blocker interference detected!
Wikia is a free-to-use site that makes money from advertising. We have a modified experience for viewers using ad blockers

Wikia is not accessible if you've made further modifications. Remove the custom ad blocker rule(s) and the page will load as expected.