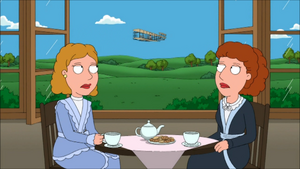 Andrea Kay "Missi" Pyle (born November 16, 1972) is an American actress and singer. She has appeared in several films, including Galaxy Quest, Dodgeball: A True Underdog Story, Big Fish, 50 First Dates, Charlie and the Chocolate Factory, and Harold & Kumar Escape from Guantanamo Bay. She has also appeared in various television roles, such as Mad About You, Friends, Two and a Half Men, Frasier, My Name Is Earl and Heroes. She is also the other half of Smith & Pyle, a desert country-rock band, with actress Shawnee Smith.
Missi Pyle is credited as "woman" in "Amish Guy". A cutaway gag leads to two women talking about Orville Wright as he flies by and calls his ex-girlfriend a bitch, then returns and retracts the statement in order to make up.
Ad blocker interference detected!
Wikia is a free-to-use site that makes money from advertising. We have a modified experience for viewers using ad blockers

Wikia is not accessible if you've made further modifications. Remove the custom ad blocker rule(s) and the page will load as expected.