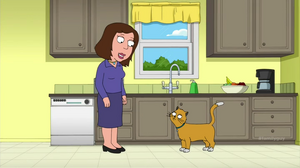 Mittens is a cat in a cutaway gag set up by Brian when he vows to be harder to find than a nice cat in "Brian the Closer" when he has to avoid Quagmire for 72 hours in order to keep him from backing out of the purchase of a dump of a condo.
When Mittens owner checks on the cat's litter box, she finds a message regarding her miscarriage spelled out in the cat's feces and only laughs about the incident.
Ad blocker interference detected!
Wikia is a free-to-use site that makes money from advertising. We have a modified experience for viewers using ad blockers

Wikia is not accessible if you've made further modifications. Remove the custom ad blocker rule(s) and the page will load as expected.