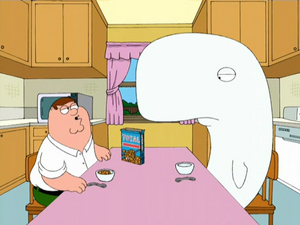 Moby Dick is a famous fictional white whale, from the 1851 novel of the same name by Herman Melville.
He paid a visit to the Griffins in "You May Now Kiss the...Uh...Guy Who Receives" which didn't go so well when, at breakfast, he begged Peter Griffin for Raisin Bran. All Peter could offer him was Total with some raisins mixed into it.
His personality in the cutaway is a play on his name, as he is, in fact, a dick.
He is voiced by Danny Smith.
Ad blocker interference detected!
Wikia is a free-to-use site that makes money from advertising. We have a modified experience for viewers using ad blockers

Wikia is not accessible if you've made further modifications. Remove the custom ad blocker rule(s) and the page will load as expected.