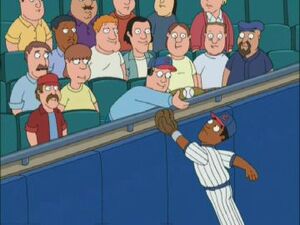 Moisés Rojas Alou (born July 3, 1966) is a former American outfielder in Major League Baseball who played for 17 seasons in the National League. In 1,942 career games, Alou had a batting average of .303 with 2,134 hits, 421 doubles, 332 home runs, and 1,287 runs batted in. Because of his status as a five-tool player and his excellent career numbers, Alou is considered by many to be one of the best outfielders of the 1990s and 2000s.
For the 2003 season, Alou was a member of the Chicago Cubs. In the Game 6 of the National League Championship Series against the Florida Marlins that year, Alou was involved in the Steve Bartman incident, in which a Cubs fan named Steve Bartman deflected a foul ball landing one row into the stands, preventing Alou, who reached into the stands, from attempting to catch the ball for an out that could have been the second out of the 8th Inning.
In the Stewie Griffin: The Untold Story segment "Stewie B. Goode", it was revealed that Stewie Griffin urged Bartman to go after the ball. Alou is seen futilely attempting to catch the ball when Bartman catches it.