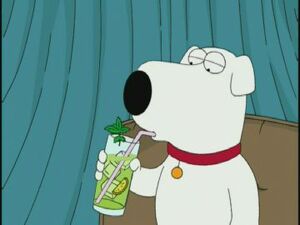 A Mojito is traditionally made white rum or vodka, sugar (traditionally sugar cane juice), lime, sparkling water, ice, and mint. Its combination of sweetness, refreshing citrus and mint flavors is intended to complement the potent kick of the rum.
Brian enjoys a Mojito during his on-camera interview in "Brian the Bachelor".
Recipe
4.0 cl White Rum
3.0 cl Fresh lime juice
3 sprigs of Mint
2 teaspoons Sugar
Soda Water
Mint sprigs muddled (gently mashed) with sugar and lime juice. Rum added and topped with soda water. Garnished with sprig of mint leaves. Served with straw over ice.
Ad blocker interference detected!
Wikia is a free-to-use site that makes money from advertising. We have a modified experience for viewers using ad blockers

Wikia is not accessible if you've made further modifications. Remove the custom ad blocker rule(s) and the page will load as expected.