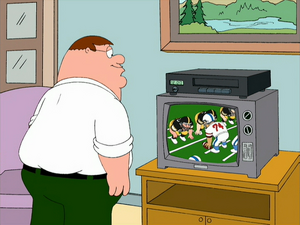 Monday Night Football (MNF) is a live broadcast of the National Football League on ESPN. From 1970 to 2005 it aired on ABC. Monday Night Football is, along with Hallmark Hall of Fame, the Walt Disney anthology television series, and M*A*S*H, one of the longest running prime time commercial network television series ever, and one of the highest-rated, particularly among male viewers.
In "A Very Special Family Guy Freakin' Christmas", Peter Griffin dared to record a matchup between the Pittsburgh Steelers and New England Patriots. The act is prohibited without the written consent of the broadcaster and the league. The minute he pressed record, the FBI intervened, and Peter showed he only had consent from ABC. The FBI then broke his VCR.
Ad blocker interference detected!
Wikia is a free-to-use site that makes money from advertising. We have a modified experience for viewers using ad blockers

Wikia is not accessible if you've made further modifications. Remove the custom ad blocker rule(s) and the page will load as expected.